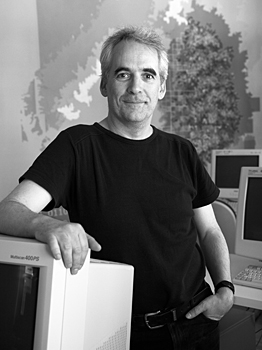 headlog multimedia
is a network of experts for diverse topics, built up by working for many years in the media sector and by making many business contacts. For every request, I either have the quilifcation mysels, or know the right expert for it. Special programming tasks, technical or legal issues for diverse sectors - I have many useful contacts.

That is the basic idea of headlog multimedia: affordable prices because of a low level of permanent resources such likerepresentative office rooms or expensive cars. At the same time, I always work with the newest soft- and hardware, and if I don't have what is needed. I know someone in my network who has.
Long- time experience and a network of professional experts - that is headlog multimedia.
Claus Dethleff
I am the head of and am tong-time experienced in internet and webdesign, digital media design, training and consulting.


born in 1957, two sond


studies of architecture (Dipl. Ing.), 10 years work as an artchitect


multimedia- designer training 1999 - 2000


since 2001 freelancer as a lecturer and trainer for computer grapfics/ multimediaand as a multimedia- and webdesigner


2001/2002 work at the net agency "nemos net", Dresden - layouing, webdesign, 3d animations,
data bases, et al. work on the projects "Niniway" (one of the first video- streaming platforms in the internet) and
"Panoworld" (a "Google Earth" of Unesco- World Heritage sites, long time before Google Earth started)


since 2003 freelancer as a lecturer and trainer for computer grapfics/ multimediaand as a multimedia- and webdesigner - specialities: interaktive panorama pictures and movies


training in media- designer- education at media project Dresden, TÜV Akademie Dresden, Fernsehakademie Mitteldeutschland Leipzig


business trainings, et al. at Scholl Glastechnik Lommatzsch, Sachsenfahnen Kamenz


2005 working for Google UK, freelancer


2005 – 2007 chief editor and author for the latin-america-magazine "La Pasión"


since April 2006 editor of the internet platform ENETOSH: (Euopean Network Education and Training in Occupational Safety and Health) – www.enetosh.net


since 2007 workshop supervisor of the media workshop in the cultural club "riesa efau" Dresden - course planning, training courses and consulting in the scope of courses, workshops in the media workshop and in Dresden schools


consulting in the area internet, webdesign and multimedia - et al. for: Institute for Work and Health Dresden,
cultural club riesa efau Dresden, graphic office Grafik Plus Dresden, construction and engineering office Dresden, parking service airport Dresden, media project GmbH Dresden, Manthey Event GmbH Berlin